East Midlands MEP & Joanna Lumley demand action on Pig Welfare in EU
25th September, 2013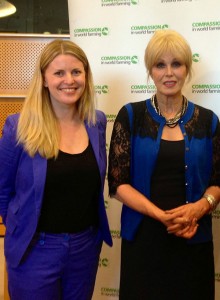 East Midlands MEP Emma McClarkin has joined forced with Joanna Lumley and Compassion in World farming to voice her concerns about widespread breaches of new EU pig-farming regulations, which came into force this year.
The EU legislation was introduced in 2003 with a ten year implementation phase to improve animal welfare standards in Pig Farming. The UK is fully compliant but sadly this legislation is not being implemented in 14 member states across the EU, where pigs are still enduring poor standards of care.
Miss Lumley spoke passionately about the plight of pigs suffering in farms which do not comply with the standards the EU set out some ten years ago. Miss Lumley referred to a recent film and report by Compassion in World Farming stating that out of 45 farms visited in 6 EU countries, 44 of them were breaking parts of EU law on the welfare of pigs.
Miss McClarkin is also concerned that UK pig farmers have already made significant investments to ensure they comply with the new rules, and are therefore at a competitive disadvantage compared with farmers in other EU countries who haven't yet complied.
Miss McClarkin said:
"I know that many pig farmers here in the East Midlands have already made significant investments to raise welfare standards and ensure that they comply with these new rules.
"Sadly, as was the case with Battery Hen Eggs, even with a lengthy warning period many EU Member States have failed to implement this new EU legislation by the deadline thus leaving an uneven playing field.
"I am determined to ensure that pig farmers in other member states are complying too, so that UK farmers are not put at a competitive disadvantage, and animal welfare does not suffer.
"I am deeply concerned about the welfare of pigs on those foreign farms which haven't yet complied. The EU Commission must take action against member states to ensure standards are complied with. Infringement proceedings need to begin and progress rapidly, otherwise what use do all these standards do to improve animal welfare for pigs?"