East Midlands MEP welcomes Prime Minister's commitment on TTIP
17th November, 2014
East Midlands MEP Emma McClarkin has today hailed a pledge by the Prime Minister's to put "rocket boosters" behind the planned EU-US trade deal.
Conservative MEPs have played a key role in driving forward negotiations on the Trans-Atlantic Trade and Investment Partnership (TTIP) which they believe can be worth billions to Britain's economy.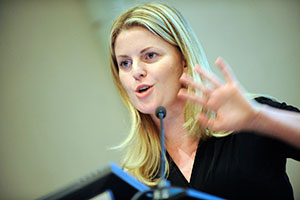 Miss McClarkin, the joint Conservative spokesman on trade in the European Parliament, is also leading a policy working group of the European Conservatives and Reformists Group in the parliament which aims to set the agenda for the talks.
She said: "It is inspiring to hear David Cameron talk with such passion and urgency about TTIP. He understands how much benefit a deal could bring – and he knows the importance of exploding some of the myths surrounding it."
The East Midlands MEP was speaking following the Prime Minister's comments at the G20 summit in Brisbane. He spoke to dispel false fears created by the Left that the deal might allow the NHS to be 'sold' to American companies.
He called the suggestion of damage to the NHS "nonsense" and stressed: "It's in the public sector, it will stay in the public sector. That's not going to change. It will remain free at the point of use."
Miss McClarkin said: "Free-trade deals are good for growth and jobs, and this one is especially important because of its sheer scale. The Prime Minister's backing demonstrates his commitment to improving the British economy and to a deal that can benefit the economy of the whole EU by £100 billion a year.
"Some people have been eager to make political capital by misrepresenting what the deal could mean to public services. David Cameron has today made it clear – the claims are false and the scaremongering has to stop."