Emma McClarkin MEP supports campaign to end wildlife cybercrime
2nd December, 2014
Emma has recently pledged her support for a report by IFAW (the International Fund for Animal Welfare) which shows how thousands of endangered species are bought and sold online.
The report reveals that, in early 2014, an intense six-week investigation found a total of 33,006 endangered wildlife and wildlife parts and products for sale via 280 online market places across 16 countries.
Criminals are attracted to wildlife trafficking for the huge profits and low penalties. Disturbingly, the proceeds are used to fund well-armed rebel and militia groups who are willing to slaughter threatened species and kill people to obtain elephant ivory, rhinoceros horn and other wildlife parts.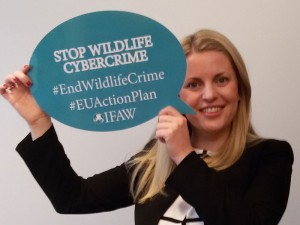 Miss McClarkin said: "More than 100,000 elephants lost their lives to ivory poachers in the past three years; while in 2013 more than 1,000 rhinoceros were killed by poachers for their horns in South Africa alone.
"I'll be pushing for the EU to implement an EU Wildlife Trafficking Action Plan, which was overwhelmingly voted for by the European Parliament earlier this year."
"This new IFAW report found that ivory or suspected ivory made up more than 32 per cent of all wildlife animals and products for sale, while reptiles came in a close second at over 26 per cent. Live animals for sale featured in 54 per cent of the adverts, and 46 per cent were for parts and products of wildlife. The value of the items investigated totalled nearly €7.8-million."
IFAW's work to combat wildlife crime includes providing training and equipment to anti-poaching ranger units, training customs officials to identify and seize wildlife contraband, collaborating with law enforcement authorities to arrest and prosecute black market traders and working to reduce demand for these products throughout the world, particularly in China.
IFAW's EU Political Officer, Staci McLennan, said: "This snapshot of the global online wildlife trade market included six EU countries. All six EU countries had issues such as ivory, lizards, tortoises and exotic birds being sold online. It seems clear that an EU Wildlife Trafficking Action Plan is the best mechanism to tackle this rampant threat to biodiversity. We want to thank Miss McClarkin for showing her commitment to stamping out wildlife crime."
Worldwide, the illegal wildlife trade is not only a threat to wildlife but also to national and global security, and to social and economic development in the countries where it occurs. Wildlife crime ranks among the most serious, dangerous and damaging of international crimes along with human trafficking, drug running and illegal arms sales. Illegal wildlife trade generates an estimated €13.8-billion a year.
The IFAW report, 'Wanted – Dead or Alive, Exposing Online Wildlife Trade' can be downloaded from www.ifaw.org