MEP's Christmas Cards support Nottingham Hospitals Charity
15th December, 2014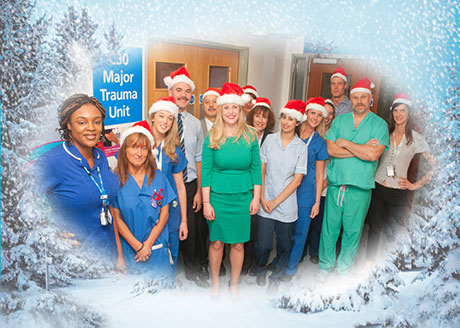 East Midlands MEP Emma McClarkin has once again taken the opportunity of using her Christmas Cards to help a local charity, by ordering them through Card Aid, which gives all profits from cards sold to charity.
Card Aid enables people to choose the cards they want, as well as choosing the charity they want to support. All profits Card Aid makes from their cards are then donated to that charity.
Last year Miss McClarkin chose the Air Ambulance, and this year she has chosen Nottingham Hospitals Charity, which is raising money to fund a helipad for Nottingham's QMC for the East Midlands Major Trauma Unit which serves the region.
Miss McClarkin said:
"I send out hundreds of Christmas Cards each year, and when I heard about the Card Aid initiative I realised what a great way it is of raising money for local charities.
"This year I chose Nottingham Hospitals Charity, which does amazing work and is currently trying to raise the money for a helipad, which will help to save time and save lives across the region. I hope that, as well as my cards raising money for them, people who receive my cards will also decide to donate to this very worthy cause.
"My thanks to all at the East Midlands Major Trauma Unit at the QMC for being such good sports and for all the life-saving work they do"
Barbara Cathcart, Chief Executive of Nottingham Hospitals Charity, said:
"We are thrilled that Miss McClarkin chose our Saving Lives Helipad Appeal to benefit from the sale of her Christmas cards this year.
"We urgently need a Helipad at the QMC to transfer emergency patients to the Major Trauma unit, as quickly as possible. In an emergency, every second counts and any time saved can make all the difference. We need to raise £3 million for our Helipad, so I hope that Miss McClarkin's kind gesture helps us to raise further awareness about this important appeal and people are encouraged to help us by donating whatever they can."
If people would like to donate to help fund the helipad, they can do so by texting NUHC07 and £2, £5 or £10 to 70070.