Sir Christopher Hatton pupils welcome MEP to Orchard House
8th December, 2015
Northamptonshire's Conservative MEP Emma McClarkin visited Sir Christopher Hatton Academy in Wellingborough today for a tour of their sixth form block, Orchard House.
Miss McClarkin was invited by the Head of the school governors, Fergus McDonald, to see the block, which opened in 2014, after she helped them to obtain the go-ahead to purchase the building from Northamptonshire County Council back in 2012.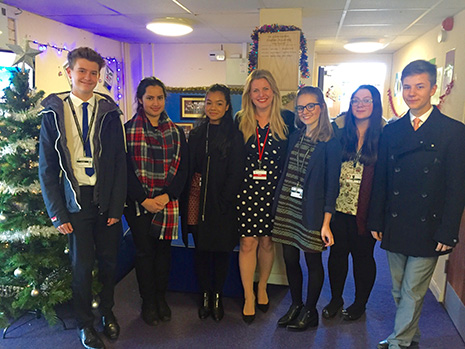 During her visit, Miss McClarkin was given a tour of Orchard House – which has a number of impressive facilities including computer suites, quiet study areas and social rooms – by Mr McDonald and a group of sixth formers who have benefitted first-hand from the building.
Miss McClarkin said:
"It's an absolute pleasure to be able to come back to Sir Christopher Hatton to see the building fully in operation and the benefits it provides for students. I was impressed by how it allows the sixth-formers to have their independence from the main school, while still allowing them to play a full part in school life."
Executive Principal Victoria Bishop said:
"We are delighted to welcome Emma McClarkin to our Academy. Miss McClarkin met with our outstanding Senior Students and had a tour of our Sixth Form provision Orchard House. These new facilities have had a huge impact on our students and we have seen the positive result of this with the Sixth Form achievement. We are grateful for Miss McClarkin's continued support of Sir Christopher Hatton Academy."