Emma McClarkin MEP hosts Commonwealth Forum roundtable discussion on EU and ACP relations
28th September, 2016
This afternoon, Chairman of the Commonwealth Forum Emma McClarkin MEP hosted a roundtable discussion in the European Parliament to discuss EU and African, Caribbean and Pacific States (ACP) relations.
The discussion welcomed Ambassadors and representatives from a host of Brussels-based ACP nations, as well as The European Commission, and also included three Commonwealth Vice-Chairmen: Eleni Theocharous MEP, Marlene Mizzi MEP and Jim Carver MEP.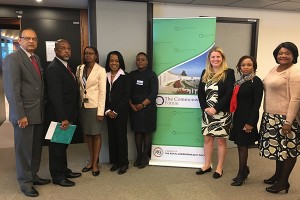 East Midlands MEP Emma McClarkin and Ms Theocharous presented on behalf of the Commonwealth Forum with a trade and development focus, whilst Ms Erja Askola presented on behalf of the European Commission Unit focusing on Economic Partnership Agreements – Africa, Caribbean and Pacific.
Miss McClarkin said:
"Today we not only discussed the current relationship between EU and ACP countries, but also spoke about the future possibility of relations between African, Caribbean and Pacific countries and that of Europe."
"Trade facilitation should be at the heart of future ACP-EU relations and we must make sure that ACP countries are gradually integrated into the world economy. Therefore, this relationship should be accompanied by strong support for capacity and infrastructure development."