OAKHAM CASTLE WELCOMES EAST MIDLANDS MEP
28th October, 2016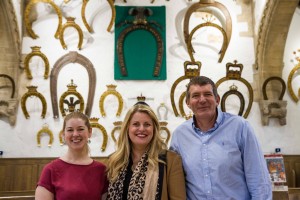 MEP Emma McClarkin has paid a special visit to Oakham Castle to see how the historic site has been transformed following major restoration work.
The MEP for Rutland visited Oakham Castle on Friday 28th October, where she received a guided tour of the Great Hall and surrounding castle grounds.
Rutland County Council has been working with support from the Heritage Lottery Fund (HLF) to restore Oakham Castle following a £2million grant in 2015.
As well as funding an extensive programme of repairs which is nearly complete, money from the HLF has also helped to pay for a new events programme at the castle, including concerts, dances, living history days, storytelling and drop in activities.
Emma McClarkin, MEP for Rutland said: "The restoration work has made the castle the jewel of Oakham and a cultural beacon, not just for Rutland, but also the East Midlands."
Much of the work at Oakham Castle has focused on the ancient defensive curtain wall, which had been placed on the Heritage at Risk Register by Historic England. The latest version of the register was published by Historic England on 21st October and notes that Oakham Castle will soon be removed from the list thanks to restoration.
Councillor Oliver Hemsley is the Council's Portfolio Holder for Culture and said:
"It's been a pleasure to welcome Emma back to Oakham Castle. A lot has changes since her last visit and it's been wonderful to take stock of everything that's been achieved. The Castle has enjoyed a new lease of life since it reopened in May and there's plenty for visitors to see and do throughout the autumn."
A full timetable of events and events and activities taking place at Oakham Castle can be obtained from Rutland County Museum and local libraries and is also available online.
For more information, please visit: HYPERLINK "https://oakhamcastle.wordpress.com/" oakhamcastle.wordpress.com