East Midlands MEP visits Sir Christopher Hatton Academy in Wellingborough
17th November, 2016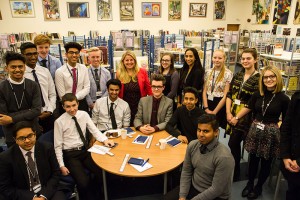 East Midlands MEP Emma McClarkin visited Sir Christopher Hatton Academy in Wellingborough on Wednesday to speak to a group of sixth formers about their future career prospects and share her own career experiences.
Miss McClarkin was recently appointed as the Academy's Ambassador to help promote and support the school and its pupils.
She said:
"Sir Christopher Hatton Academy is a fantastic school that aims high and delivers top quality opportunities for its pupils. I am honoured to help in any way that could better the life experiences of its pupils. The sixth formers were intelligent, inquisitive and confident; a testament to what this top quality, state school produces."
Vicky Bishop, CEO of Hatton Academies Trust / Principal of Sir Christopher Hatton Academy added:
"Having the calibre of people like Emma share their experiences in the world of work is a good way of broadening our students' horizons and giving them the confidence to excel and fulfil their dreams."
Sir Christopher Hatton is the highest performing academy in Northamptonshire and is a National Teaching School with 81% of its pupils going to University of which 25% attend Russell Group universities like Oxford and Cambridge. It is only one of two schools in the country that has been awarded Gold status for its work and achievements in delivering effective anti-bullying strategies.