Emma McClarkin MEP visits Royal Crown Derby
2nd December, 2016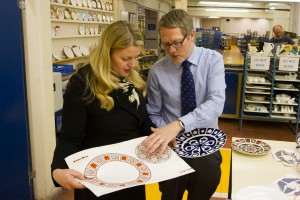 This week, East Midlands Conservative MEP, Emma McClarkin, took a special tour of Royal Crown Derby, one of the last remaining fine bone china creators that still manufactures its products 100% in England.
Miss McClarkin was given an insight into the production lines of this historic and unique institution of British manufacturing and was eager to show her firm support for Royal Crown Derby and its future success.
Emma is confident that with the year's political developments and the vision of Owner and Chairman, Kevin Oakes, that 2016 will be the start of a new age for Royal Crown Derby and East Midlands manufacturing. The International Trade Spokesman for the Conservatives MEPs also discussed future opportunities and new markets for Royal Crown Derby post-Brexit with Sales & Marketing Director, Christopher Oakes, as well as upcoming new product introductions.
Emma said: "The East Midlands, and Derbyshire in particular, has a great heritage in the production of high quality ceramics. Royal Crown Derby is right to be proud of their heritage since its foundation in 1750. 
The attention to detail and design here is second to none and I am confident that the company will appeal to future generations and new markets across the globe. Royal Crown Derby is a brand we can be proud of."
Christopher Oakes, Sales and Marketing Director of Royal Crown Derby said: "We welcome Miss McClarkin's support of Royal Crown Derby and manufacturing in the East Midlands as a whole. Royal Crown Derby remains committed to manufacturing its product 100% in England. 
"From UK-based clients who select only brands which support British manufacturing, to those in other markets, such as the USA, UAE, Russia and Asia, where our products are considered a fine example of the nation's manufacturing prowess, our British heritage and traditional production methods are a key sales drive."