Emma supporting SSAFA
21st December, 2016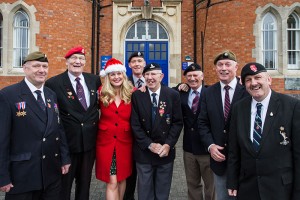 Each year, East Midlands MEP Emma McClarkin nominates and promotes a charity that makes a difference to the lives of people in the region with her Christmas card. This year Emma is recognising and supporting the invaluable and important work of SSAFA, the armed forces charity. She was photographed with veterans from Northamptonshire who are supported by SSAFA.
SSAFA provides lifelong support to anyone who is currently serving or has ever served in the Royal Navy, British Army or Royal Air Force, and their families. This includes both regulars and reserves.  Each year, their professional staff and network more than 6,500 volunteers provide assistance to some 60,000 people, ranging from World War Two veterans to the families of young servicemen and women wounded or killed in Afghanistan.  The charity has five branches operating throughout the East Midlands and fifty six across the Country.
Emma said, "I am proud to support SSAFA, the Armed Forces charity, which supports serving personnel, (both Regular and Reserves), veterans and their families when they get into difficulty. It is the oldest and longest running Armed Forces charity and works in close partnership with other military charities and specialist organisations to ensure that those who turn to them for help, get the support they need."
SSAFA has just launched its #GotYourBack campaign which aims to address the 'grin and bear it' mentality which remains strong within the Armed Forces Community.
Emma continued, "In times of danger or conflict our service men and women have 'got our back' to keep us safe. Often, they put themselves in harm's way. Now it's time that we step forward to get their back and I hope that you would consider supporting SSAFA this Christmas with a donation or other forms of help." www.ssafa.org.uk Emma is a graduate of the Armed Forces Parliamentary scheme set up to give parliamentarians a better understanding of our armed forces.