MEP hears tragic tales of smuggled pups
12th December, 2016
Emma McClarkin MEP visits Dogs Trust Loughborough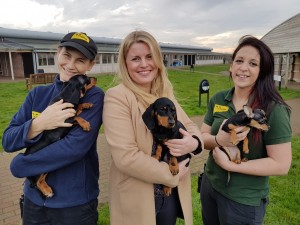 East Midlands MEP, Emma McClarkin, has had a behind the scenes tour of Dogs Trust Loughborough to find out about the plight of smuggled puppies.
Dogs Trust is the founding member of the EU Dog & Cat Alliance which now has more than 65 member organisations from across Europe that have joined together to, among other issues, tackle the illegal trade in dogs and cats.
In the first five months of this year, Dogs Trust rehomed 194 puppies who had been illegally smuggled into the UK, caring for them and paying for their quarantine costs until it was time for them to find their forever homes.
Dogs Trust Loughborough rehomes hundreds of dogs every year and following the tour where she met Maggie who had been smuggled from Latvia Emma said:
"It is absolutely heart-breaking to hear what so many of these dogs have been through but also wonderful to see the incredible love and care they are given here at Dogs Trust Loughborough.
"As a dog lover it is very hard to understand how anyone can take part in the illegal trade of puppies and see dogs simply as commodities from which to make money."
Following Emma's visit, Dogs Trust Loughborough's Rehoming Centre Manager, Celine Di Crocco, said:
"At this time of year there is a huge spike in people wanting to buy puppies as Christmas presents and sadly many people now look for puppies online, which is largely how illegally imported puppies are sold.
"These puppies don't have appropriate vaccinations, are transported in horrendous conditions, have false documents and have been taken away from their mums far too soon. Sadly, around 8% of the illegally imported puppies we have seized have died before we were able to rehome them, which is an absolute tragedy.
"We would urge everyone to never buy a puppy online as to do so may sadly be supporting the illegal puppy trade. Always consider adopting a dog that has found themselves without a home and give them a second chance to have the happy, healthy life all dogs deserve."