Safer Internet Day
7th February, 2017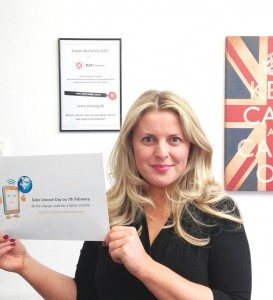 Safer Internet Day is an important day in my calendar. It provides us a great opportunity for politicians, organisations, and the public as a whole, to discuss and raise awareness about how we can best eliminate child sexual abuse imagery online. What has become a global problem needs a global response.
 
The internet has evolved in the past two decades and now social media is prevalent through all ages of society, but in particular with our young people. Whilst this has given individuals across each continent the opportunities to quickly and easily socialise with friends and to access and share information from all across the world, it has also created a platform for serious crimes that the European Union and the international community must stand united in tackling.
 
Whilst the United Kingdom and EU Member States have gone to great lengths to ensure that child sexual abuse material in their territory is removed as quickly as possible and that there are barriers to block those who seek to access this content, more still needs to be done. The upcoming European Commission report looking at combatting the sexual abuse and sexual exploitation of children and child pornography will ensure that the European Union keeps this firmly on the agenda.
As Shadow for the Culture and Education Committee opinion to this report, I will be working to ensure that the United Kingdom and other Member States are able to continue to cooperate with and share best practices with organisations such as the Internet Watch Foundation, who assess and remove more than 1,000 webpages each week.

It is this cooperation that represents the best tool in the fight against this ever-changing crime that operates beyond all national borders. It is important that we use this report to acknowledge what Member States are doing correctly, and what can be better supported to ensure that the UK and the European Union has a coordinated and organised response.
 
This cooperation also needs to be reflected at a global level and all countries need to understand and appreciate that this is indeed a global issue.  We need to show the criminals that seek to create and share this content that there are no safe havens or loopholes for them to use.  Our governments, our internet industry, charitable organisations, and the public all working tirelessly together will send the biggest statement that we are united against them.
 
The campaign to protect our children online is one that is of the utmost importance to me and I will continue to work as hard as I can in the European Parliament to ensure that we recognise this is a priority and that we must work collaboratively together to tackle it and protect our children.
 
Emma McClarkin MEP