Emma McClarkin MEP hosts high-profile Commonwealth event in Brussels
14th March, 2017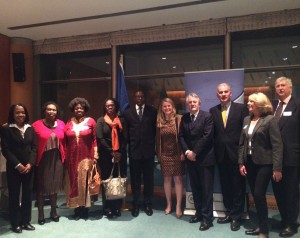 Emma McClarkin MEP, in her role as the Chair of the Commonwealth Forum, hosted today a reception to celebrate the Commonwealth Day and the unique partnership between this family of nations.
The Commonwealth Forum is a cross-party association and a branch of The Royal Commonwealth Society, which aims to raise the profile of the Commonwealth in Belgium, and develop and strengthen the cultural and trade links with the European institutions.
Miss McClarkin said:
"The Commonwealth is the expression of Global Britain. It is the unique connection between a group of nations that can work together on addressing the most diverse global issues, and that are committed to a better and more prosperous future."
Numerous ambassadors, Members of the European Parliament, and high-profile representatives of Commonwealth countries in Belgium attended the event. The 2017 theme 'A Peace-Building Commonwealth' reaffirms the Commonwealth Charter and its commitment to the rule of law, transparency, and democratic institutions.
Miss McClarkin added:
"I am extremely delighted to see a full house here today to discuss progress and prosperity, and to build up on the existing ties between our countries. We can champion our core values through the Commonwealth, and deliver to our people and future generations on key economic and social policies.
We must celebrate our shared history and values, and make sure we continue to work together in the creation of a solid and dynamic relationship."