Emma McClarkin MEP makes the case for pursuing ambitious trade deals with a 21st century approach 
20th July, 2017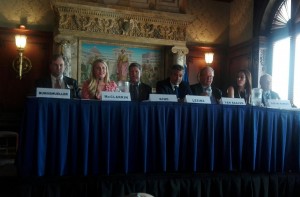 Addressing the Transatlantic Policy Network in Washington DC, alongside Members of the US Congress and Senators of the Republic of Mexico, Miss McClarkin argued that we need innovation to make the most out of the opportunities that the collaborative economy has to offer.
The Conservative Coordinator on the International Trade Committee said:
"Trade has always been an enabler but securing market access in traditional sectors is no longer enough. Trade in Services and digital trade are two of the areas that will be the centre of future global trade policy."
With a focus on global trade within a framework of future relations between the EU, the UK, and the Americas, Miss McClarkin highlighted the necessity of securing policies on trade in services and digital trade at a multilateral level, especially on the WTO agenda.
The British MEP said:
"There is a lot that can be done at a multilateral level, with TiSA, the Information Technology Agreements, and the WTO E-Commerce Work programme. We should work to strengthen the commitment to these deals, and to expand then in technical scope and geographical coverage."
She went on to say:
"In doing this we will also be driving the WTO agenda forward, and contributing  to create an ambitious and solid multilateral system that can face the challenges of modern days."