Emma McClarkin MEP encourages growth of rugby in Asia ahead of the Japan Rugby World Cup 2019.
22nd February, 2019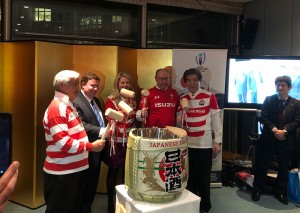 Emma McClarkin, who is Spokesperson for Sport, co-hosted a reception to celebrate the Rugby World Cup in the European Parliament alongside His Excellency, Ambassador of Japan to the EU, Mr Kazuo Kodama.
The East Midlands MEP brought together Ambassadors from the participating countries to share their passion for rugby and encourage the growth of rugby in Asia.
Miss McClarkin said, "This reception is a great opportunity to celebrate the Rugby World Cup and highlight Japan's growing passion for rugby.
"Asia is the future of the game and I hope the matches in the autumn will inspire a generation of young people to take up rugby, start a local club or start playing a game of touch rugby and that there will be a legacy for Rugby in Japan.
The Rugby World Cup will be hosted in Japan in autumn, the first time the tournament has been hosted in Asia.